https://i-d.vice.com/fr/article/gyzkn9/une-nouvelle-expo-rend-hommage-a-la-new-wave-parisienne-des-annees-80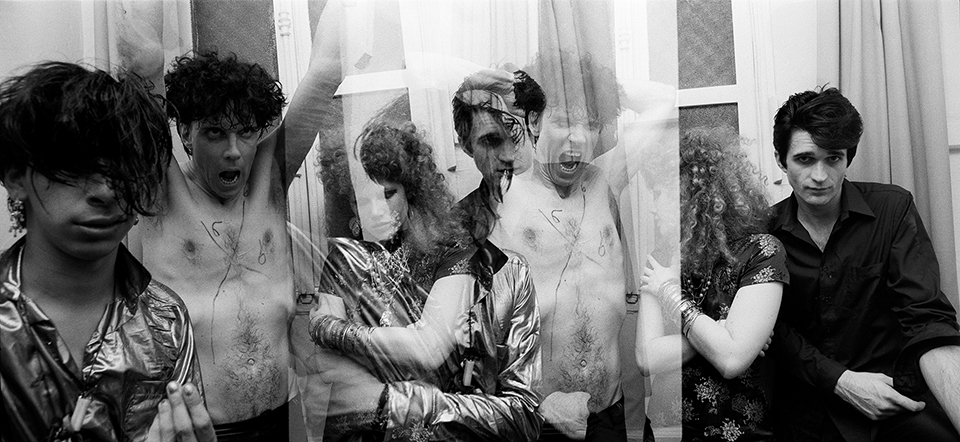 The Cramps, backstage Bobino, Paris, 1981. © Jeanluc Buro
A new exhibition pays tribute to the Parisian New-wave of the 1980's
Photographer Jeanluc Buro immortalized the youth of Parisian underground heroes and some of their Anglo-Saxon masters, from The Cure to Alan Vega.
As brief as it was, the 1976 punk explosion ignited many fires whose embers still warm us today. At the turn of the 70s and 80s, music regenerated itself in a crazy way by taking multiple directions that were all placed in the same bag: the new-wave. An entire generation that had survived the dead-end of the no future opened up new perspectives by imposing its own means of production and expression. Fuelled by the precept of "do it yourself", it marks a creative liberation from which we still benefit almost forty years later. At the time, the photographer Jeanluc Buro – a coquettish spelling to which our man is attached – felt the wind turning and the excitement of this world in reconstruction. For months, he lowered his objectives to the heart of the Parisian underground where young artists, singers, musicians and actors rubbed shoulders, and some began, for some, to climb to the top, like Etienne Daho or Indochine.
The exhibition Objectif Alternatif, which is being held in Paris from 24 October to 8 December( French link ), pays as much homage to his work of the time as to those rock heroes from the shadows who did not all manage to escape it.
"The 1980s were very successful because they led to the proliferation of media through an alternative press, fanzines, free radio stations… This created new broadcasting opportunities, with the encouragement of self-management, self-determination, self-production…" emphasizes Isa Carol Horiot, curator of the exhibition. It is in the shadow of the sometimes cursed actors of this vast renovation project that Jeanluc Buro literally lived – as evidenced by the impressive photographic archive he extracted from the storage space where his negatives had been stored for three decades. Passionate about this period, Isa Carol Horiot woke them up and extracted what would become the heart of the exhibition Objectif Alternatif, seduced by the photographer's personality and by what her work reveals about this unique moment. "Jeanluc is a very discreet person who has been everywhere. What interested me was that he published very little, never exhibited, except during this period through fanzines, and that he had an unlimited curiosity. He would interfere in any environment, even if it meant putting himself in danger in places like the Pali Kao factory, which did not have a good reputation before becoming a major artistic and cultural centre," she explains. This gothic rock fan then decided to go down into the bottomless pit of this photographic treasure.