Exhibition  October, November 2019 :
Hors-Champs gallery present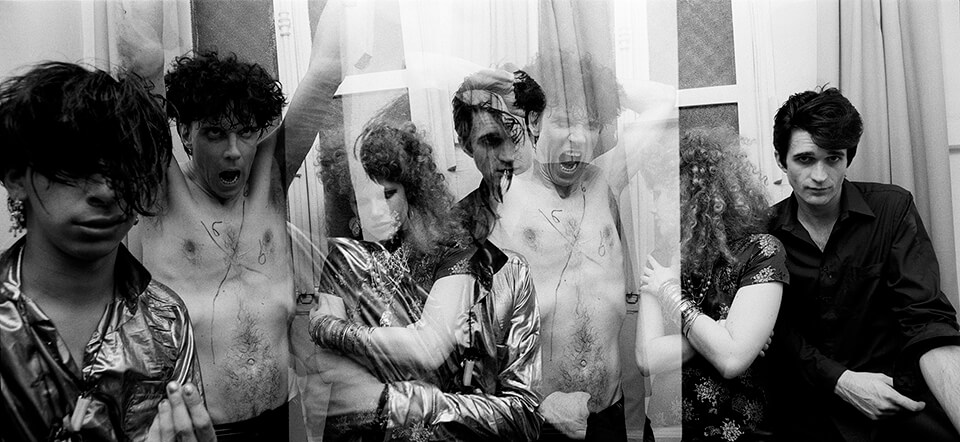 The Cramps ,Bobino's Backstage  1981  June 6Th, Lux Interior, Poison Ivy, Nick Knox, et Kid Congo Powers, Double argentic exposure 
Objectif Alternatif
Jeanluc Buro's Photographs
Curator Isa Carol Horiot
Exhibition from Thursday 24th to Sunday December 8th 2019
First monographic exhibition through the lens of Jeanluc Buro, based on a selection of photographs taken in the 1980s, focusing on main sites of Parisian nightlife, the craddle of the French and international alternative scene and its emblematic artists.
This presentation reveals almost all of the original visuals that emerged from negatives that had remained unexploited until then.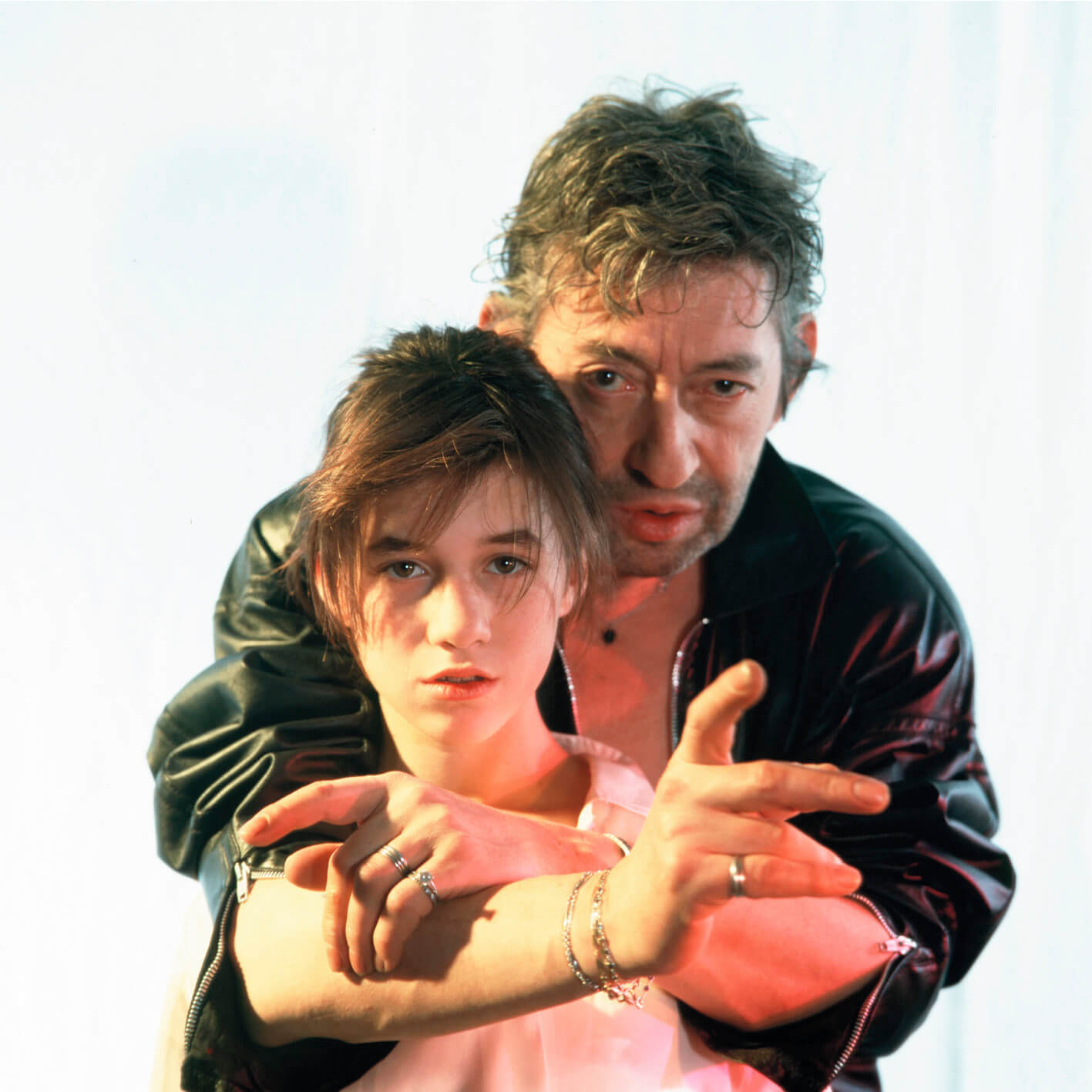 Charlotte et Serge Gainsbourg, pour la sortie de l'album Charlotte for Ever, 1986
His rendering of Black and White silver-based is inspired by cinema and the masters of humanist photography.
Jeanluc Buro took evening courses at the IDHEC (Institut des Hautes Études Cinématographiques) given by the famous chief operator Henri Alekan (from La Belle et la Bête by Jean Cocteau to Les Ailes du Désir by Wim Wenders) who introduces him to the science of light. Jean Dieuzaide (founding member of the Rencontres de la Photographie d'Arles) taught him the art of black and white printing.
After a period of studio assistance, he devoted his first years as a photographer to fixing the memory and face of the Paris underground scene.
His lens leads us inside the backstages, after the hysterical Cramps' concert in Bobino, the Cure concert at L'Olympia or shares intimate moments with Bauhaus and Taxi Girl at Rose Bonbon.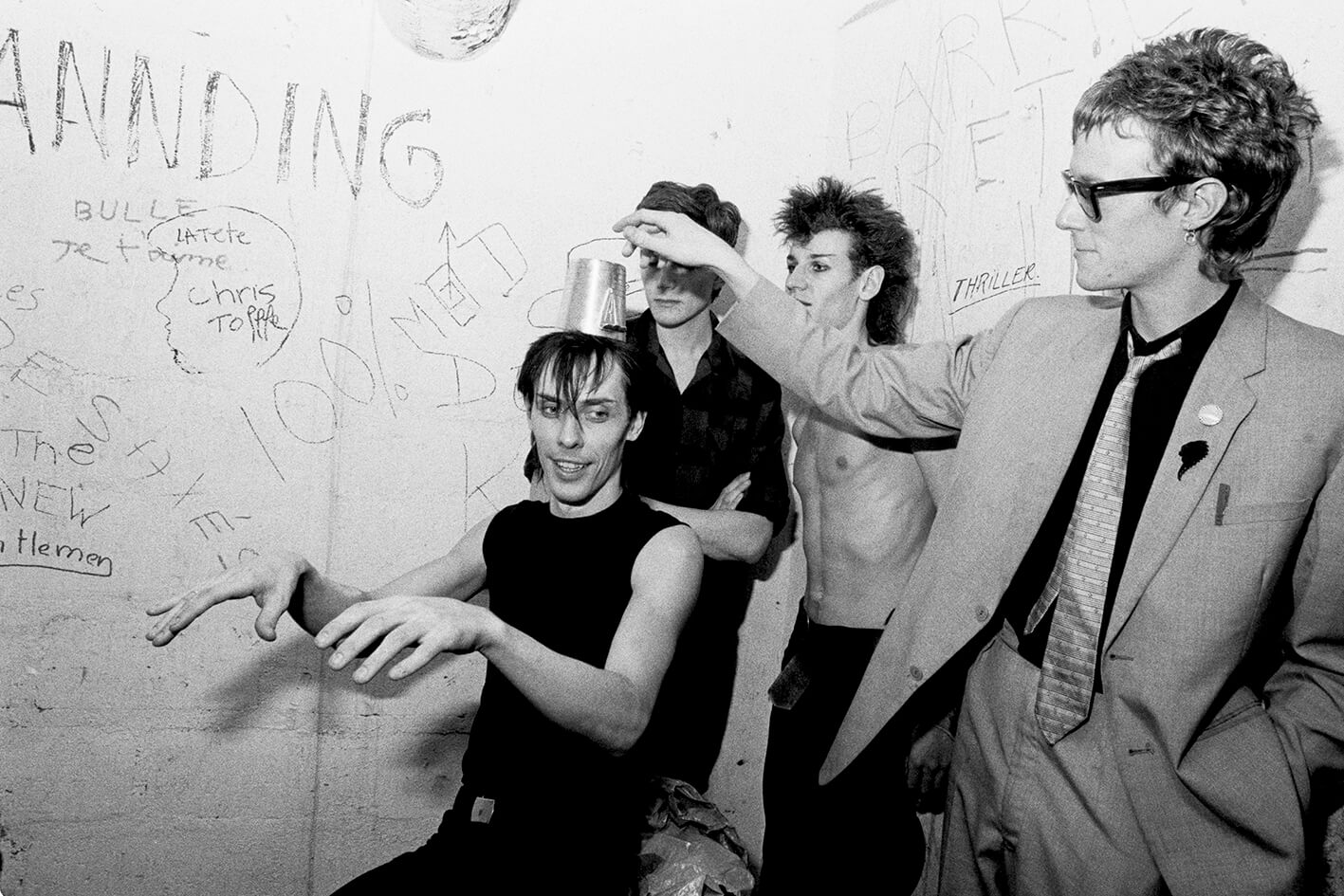 Backstage Rose Bonbon Groupe BAUHAUS Peter Murphy, Daniel Ash, David J, Kevin Haskin le 3 décembre 1981
During this period Jeanluc Buro collaborated as a photographer-journalist with the general and musical press of the time: Best, Rock'n Folk, Libération, Actuel, Jardin des modes, and various Fanzines etc… He also contributed to vinyl record covers: Virgin Prunes (Hérésie box set), Willy Loco Alexander and The Confessions for the mythical record company New Rose.
This exhibition is also part of a tribute to the duo Rita Mitsouko, founded in 1979, which this year would celebrate its 40th anniversary. Jeanluc Buro met them at the beginning of their careers, resulting in an important series of portraits, on stage and off stage of them, being cream pied a concert at the Boule Noire in Pigalle or posing for a remake inspired by Brassai and Doisneau. A sensitive portrait of the duo, taken during their first concert at the Pali Kao factory, appears in the booklet of the retrospective that will be released next October.
This inspiration for nightlife and counter-culture is also accompanied by a spontaneous curiosity that leads him to explore innovative places or attend the most surprising events.
Jeanluc Buro's yearning for novelty and eclecticism have led him to explore artistic universes, of which the exhibition is intended to be a reflection.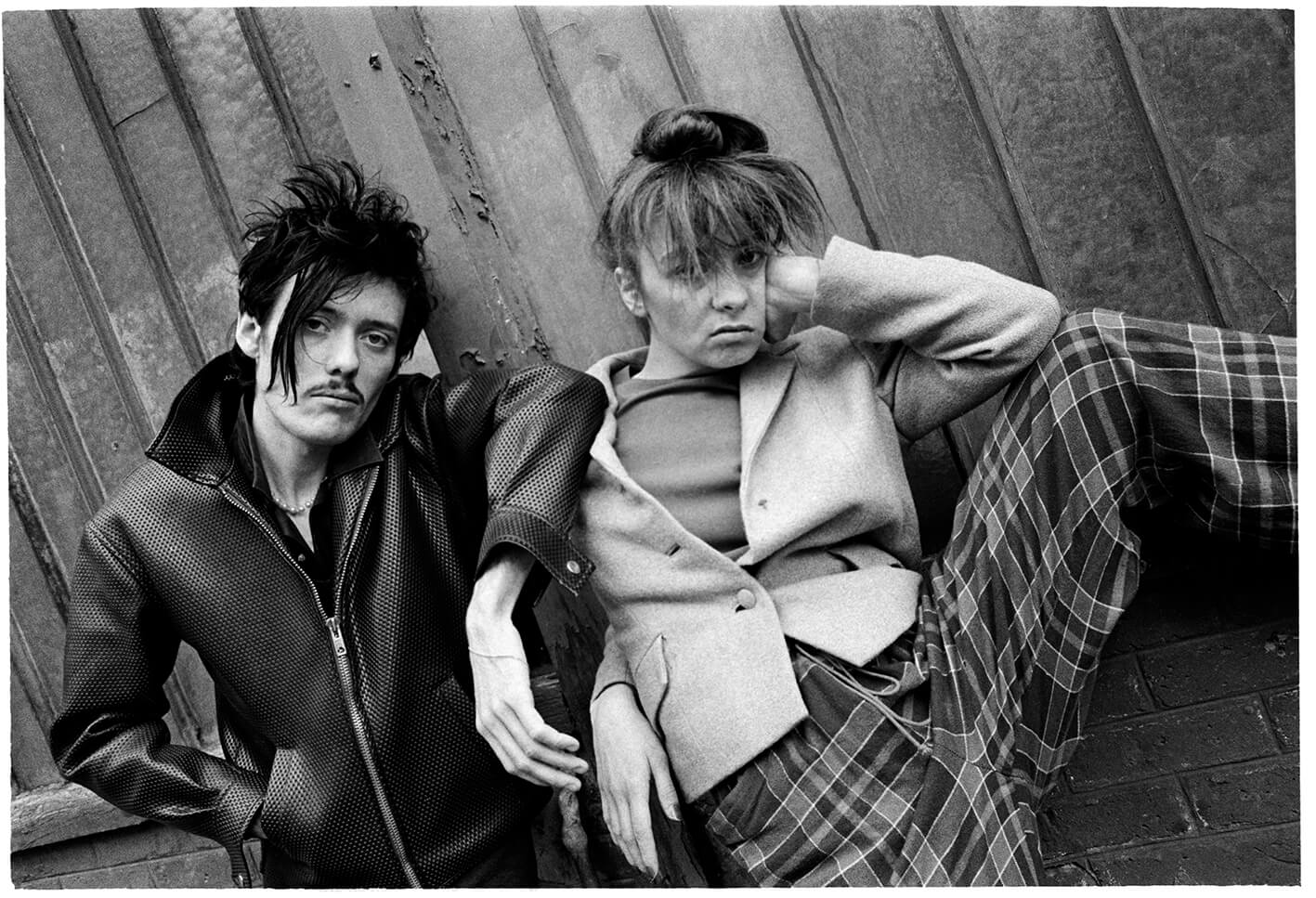 RITA MITSOUKO's home Boulevard de la Villette 75019  private shooting
Focus on backstages 1981:
Meeting with The Cure for their second appearance in Paris on November 19th, 1981. Robert Smith's band filled L'Olympia and confirmed the success of their tour for the albums Faith and Seventeen Seconds, with Lol Tolhurst and Simon Gallup, the band's historical bass player.
The Cramps, unforgettable in Bobino on June 6 th, 1981, improvisation of a frenetic photo session with Lux Interior, Poison Ivy, Nick Knox, and Kid Congo Powers.
The green rooms of Rose Bonbon in its glory days with Bauhaus and its charismatic leader Peter Murphy, who embodies of the Post-Punk/Gothic movement. December 3rd, 1981.
The Meteors, considered as the pioneer of Psychobilly, led by Paul Fenech, here accompanied by the guitarist of Theater Of Hate. Les Bains-Douches, December 9th, 1981.
Stephen Morris, drummer of New Order, green rooms of the Palace on April 17th, 1982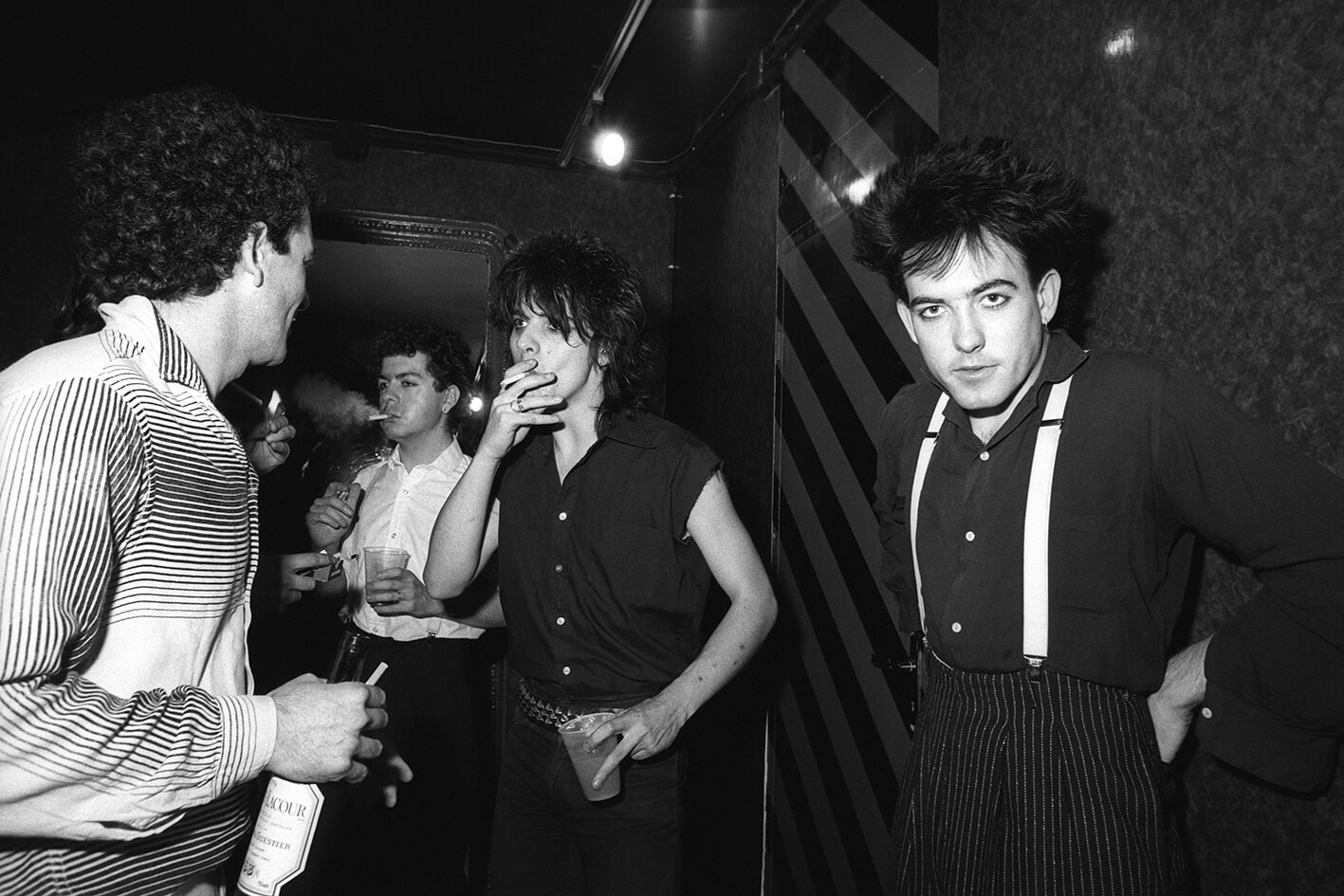 Backstage OLYMPIA The CURE, Robert Smith: vocals, piano and guitar; Simon Gallup: bass;Laurence Tolhurst: drums Promo Album "Seventeen Seconds" et "Faith" 19 octobre 1981
Portraits « Des Jeunes Gens Mödernes »
Marquis de Sade, at the Palace, on March 4th, 1981, which proved to be the leading group in what has been called the Rennes' scene in Brittany. The city is even considered as the French capital of rock and New Wave during the 80s. A portrait of Philippe Pascal driven by an expressionist interpretation, during his last concert in the capital, before the group's disintegration three months later.
Edwige Belmore, the Punk icon who was once a physiognomist at the Palace, then a singer in the duo with Mathématique Moderne, is pursuing a career as a singer and saxophonist with the ephemeral group Jungle Geisha created in New York. Concert at Les Bains-Douches, November 9th, 1982.
Elli Medeiros as an aquatic nymph, studio shot "Toi Mon Toit" 1986 track from her first solo album Bom Bom.
Taxi Girl, Daniel Darc and Laurent Sinclair, souvenir of the Rose Bonbon era and first success in 1981.
Etienne Daho from the Rennes' wave in Brittany, in his attic room, rue des Dames in Paris. A Rock'n Folk commission for the release of the album Mythomane in November 1981, with the musicians of Marquis de Sade and Jacno in production.
Performers and new sonic horizons:
The trash cabaret of Virgin Prunes, an Irish group that will deeply mark the Gothic rock scene with its scenic performances, a mix of tribal and subversive beauty. Rex Club, June 1982.
Klaus Nomi, appeared on the stage of the Palace on November 19th, 1981. Spectacular vision with a supernatural voice from bass baritone to countertenor. He was one of the first artists to die of AIDS in 1983.
Psychic T.V.'s experimental electronics with Genesis P-Orridge, an outstanding personality who has contributed to the emergence of post-industrial and techno music.
The legendary Alan Vega, precursor of electro punk rock, founder of the group Suicide, during a memorable concert at the Olympia on May 29th, 1982.
On the eve of success:
After a difficult start, Alain Bashung, diptych of the Le Creusot concert for the 1981 "Pizza" album tour, which earned him recognition.
Indochine, founded a few months before, became the revelation of the new Parisian New Wave scene.
Jeanluc was one of the lucky ones present at their very first concert on the Rose Bonbon stage in autumn 1981.
The first musical experiences of the Rita Mitsouko and their wrecked Arty world on the underground stages of the capital.
Visions of the nights at the Palace and elsewhere:
The events at the Palace were a vibrant gallery of portraits of the mixed genres: anonymous and famous, the bourgeois gawking and the marginalized explored the intoxication of the festival without limit or hierarchy.
The night event on the theme of tattooing, where we recognize the comedian Thierry Le Luron with Fan, Skinhead from the group of Les Halles, model of the evening for the tattoo artist Éric.
The fifties group of Le Palace, led by the young actress Pauline Lafont, surrounded by her rocker friends.
The Starshooter concert with Kent Hutchinson talking generously with his audience for the band's last tour, called Tora! Tora! Tora!,at Le Palace in 1982.
Alain Pacadis, the must-see nihilistic party boy, from Parisian nights, author "D'un Jeune Homme Chic" and columnist for the trendy press: Libération, magazine Façade etc.
The beginning of this decade also marks the creation of new concepts with the launch of ephemeral places: the afters of Captain Video, moments captured at the end of Duran Duran's concert for their first time in Paris, Rock In Loft, the 120 nights, Les Nuits d'Actuel or Le Rex etc.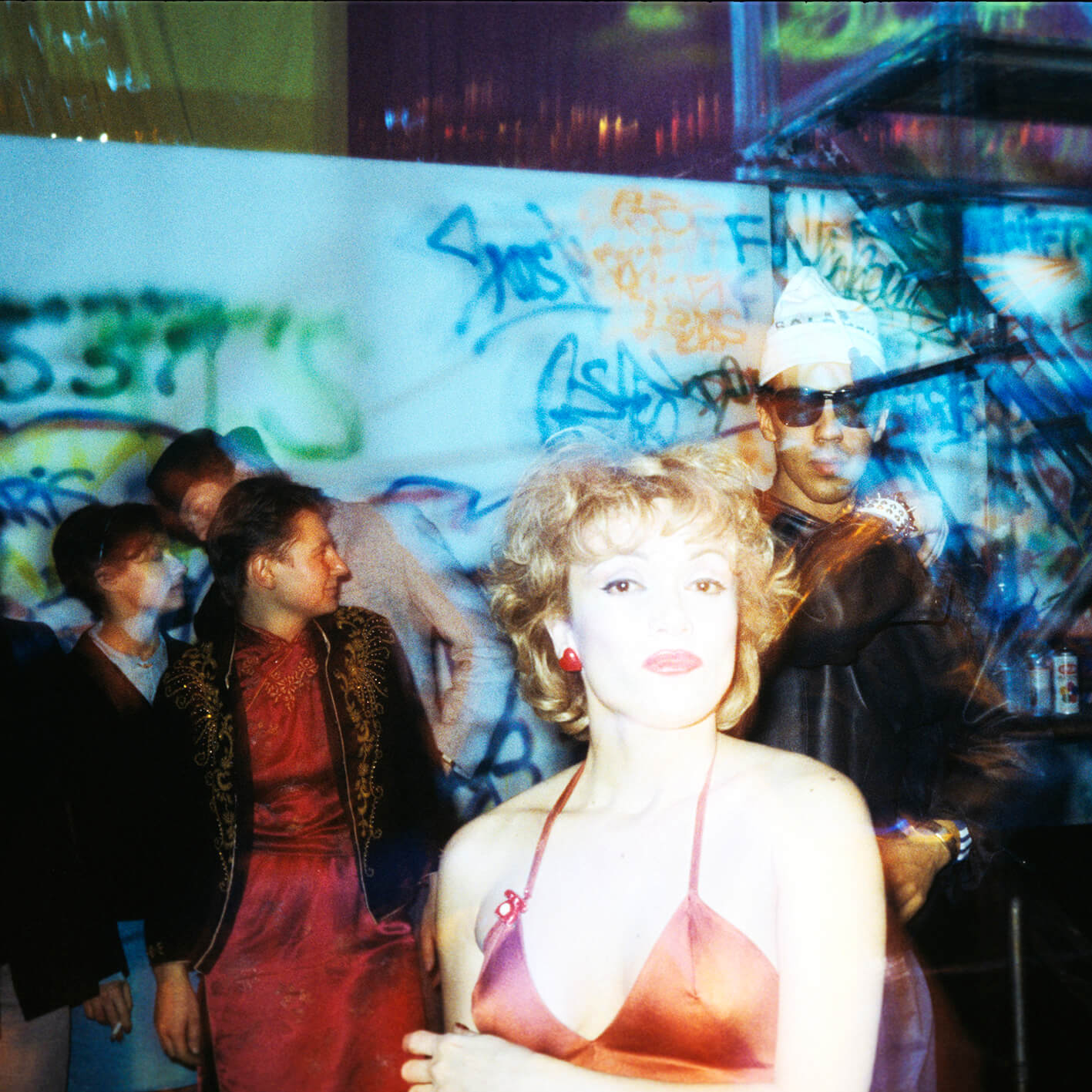 Street Artist Futura 2000, New Yorker and graffiti pioneer, who joins the English group The Clash on their tour in Paris. Photo taken during a performance at Le Palace with the underground muse Marie France.
Street Art / Paris-New York connection :
Jérôme Mesnager, a French painter, participated in the urban art movement in France and in Figuration Libre in the early 1980s. He is the inventor of " L'homme en blanc" (the man in white), icon of light and peace, first created in 1983 during an event of the Zig-Zag collective, a group of young artists who invest and animate abandoned places, factories, cellars and catacombs.
The urban area and its communities:
The Mod movement will experience a renewed interest in Europe at the beginning of this decade. Renamed Mod Revival, this resurgence originated in the popularity of the British group The Jam and the release of a film Quadrophenia which gives pride of place to the movement. Very few in Paris, their gathering points were in Les Halles, in front of the Scooter clothing store on rue Etienne Marcel, and Place Gambetta. Jeanluc shares their daily life with them for a few portraits of their accessorized Vespas.
Images that have the value of archives, during events or concerts that took place at the Pali Kao Factory. This former abandoned paper mill located in Belleville was dedicated to the alternative margin and independent crops. This place enjoyed a reputation across the Atlantic with its first experience in December 1981 of "Slow Scan Transmission", the ancestor of Streaming, with performances instantly transmitted to the Boston MIT. Photographic documents on the Pali Kao Factory are extremely rare. This high place of exhibition and underground experimentation has seen the emergence of an appreciated alternative scene.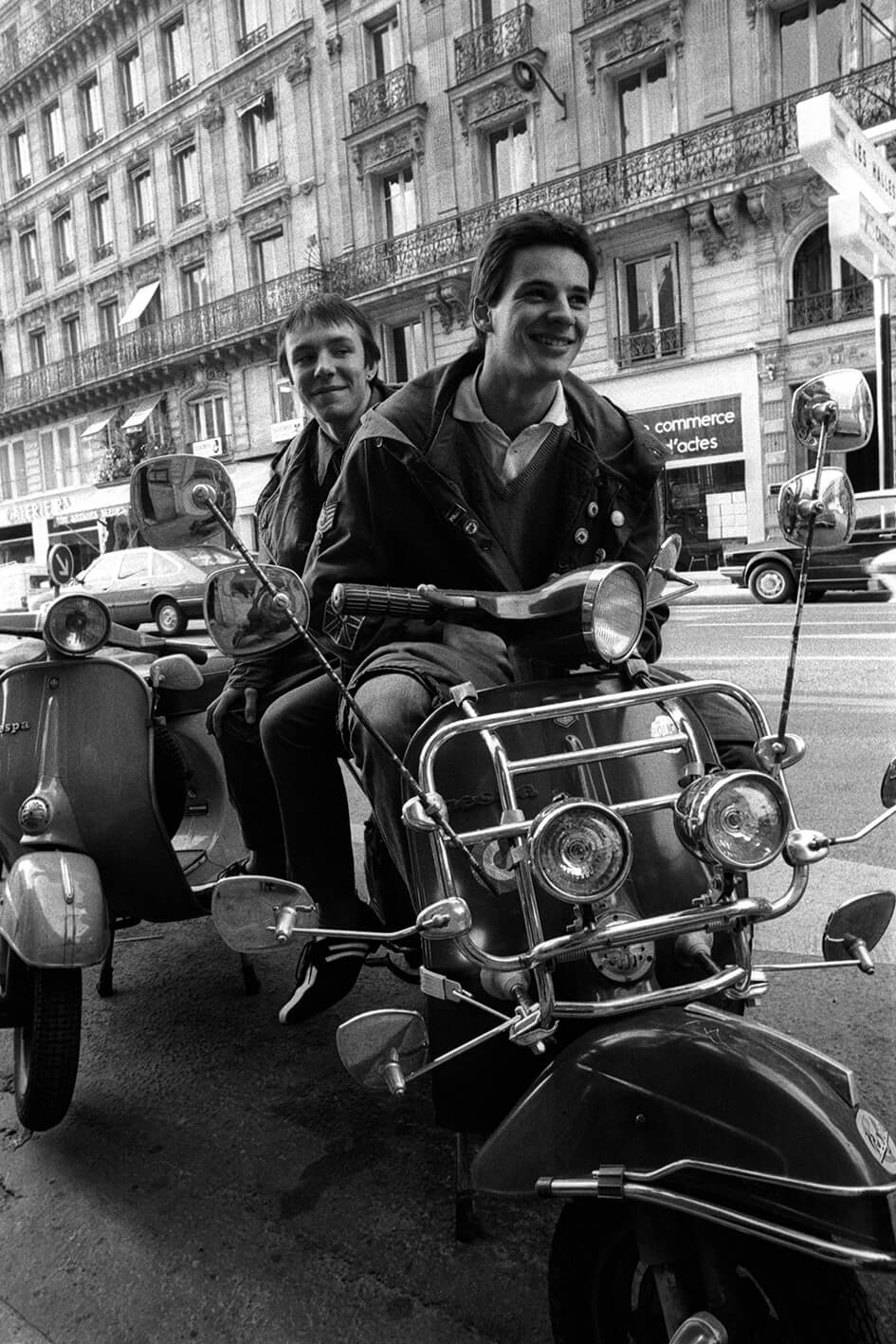 Portraits des Mods des Halles 75001 sur leurs Vespas accessoirisées: Mod Revival début des années 80. Devant la boutique Scooter, leur QG
The founders of the alternative scene, emancipation outside the classical production networks: In this climate which sees the rise of electronic music, the inventive energy of the Rock and Post Punk scene remains intact.
Lucrate Milk, is created by a collective of artists and plastic artists who pass from tags to the stage in 1981. They became the instigators of the No Wave movement and the spearhead of the DIY (Do It Yourself) à la Française. Helno (Noel Rota) the chorister will then join the Bérurier Noir, and will found the mixed rock group Les Négresses Vertes which will be a great popular success.
La Souris Déglinguée, an essential group in the reactivation of the Rock current, which has built a reputation on stage, with the ability to have always known how to reinvent itself. They launched out with a first self-produced single, then their third album "Aujourd'hui et demain" was released in 1983 on Celluloïd Record. It is in this context that Jeanluc, after having followed them in concert, will dedicate an important series of photos to them, in one of his new places which will participate in the development of independent networks, It is the W.W Studio 91, Quai de La Gare. This industrial wasteland, based on the location of the former cold storage facilities at Austerlitz Station, will be refurbished to accommodate recording, rehearsal, concert and theatre studios and will become one of the capital's most active alternative cultural centres.
Oberkampf also went through self-production, launching his first maxi-45 rpm with five titles, which was made possible thanks to the financing of a patron. Their title "Couleurs sur Paris" will be elevated to the rank of Punk anthem. They were also censored for their dynamited version of "La Marseillaise" on the show Les Enfants Du Rock in 1983, one of the most controversial interpretations of our revolutionary song by Serge Gainsbourg.
Last but not least, the popular agitators:
Coluche "Plus Rock Tu meurs" cover of Rock'n Folk, January 1986, photo taken on the Canal + TV set after his show.
Charlotte and Serge Gainsbourg for the release of "Charlotte For Ever", Charlotte Gainsbourg's first album, first studio session, Rock'n Folk February 1986.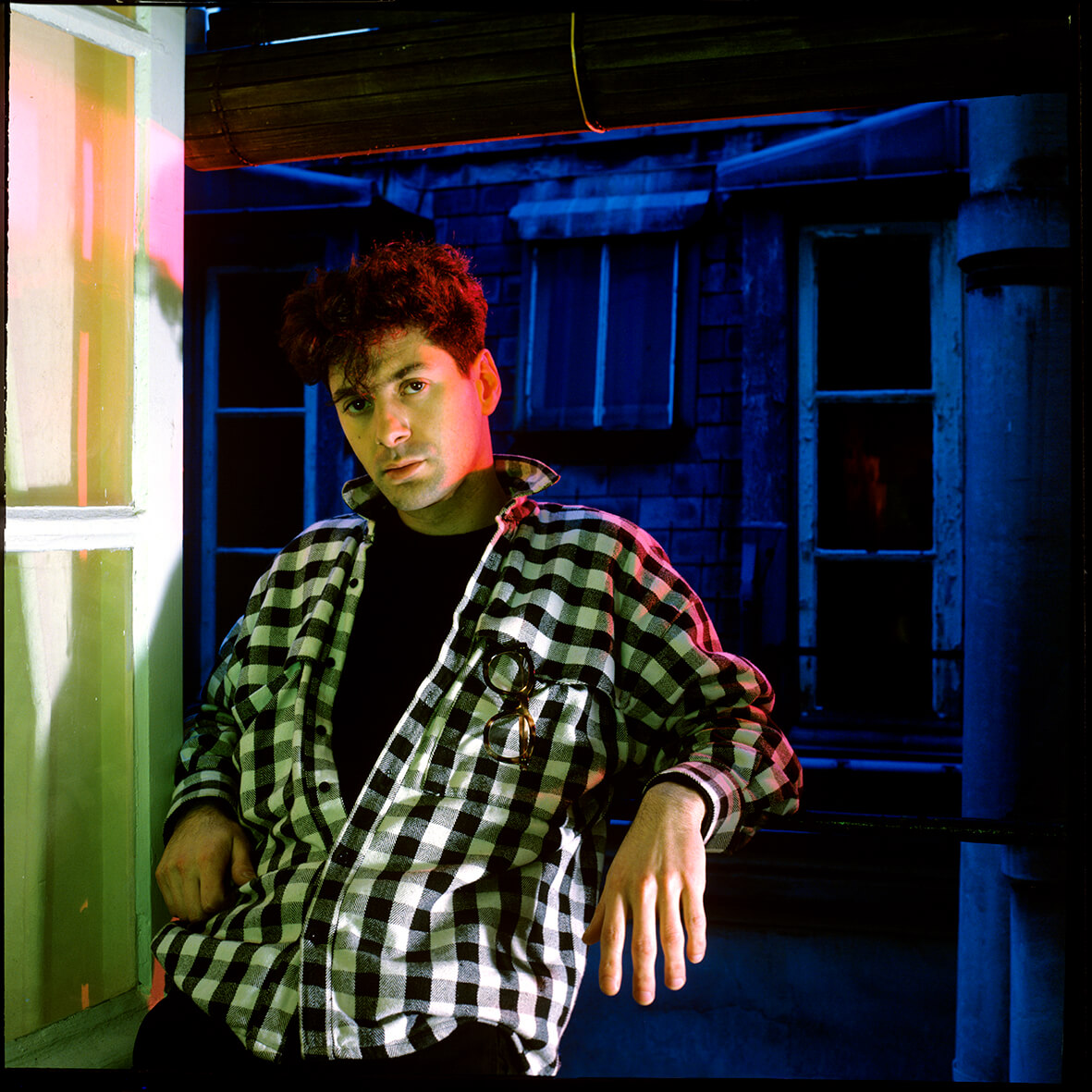 Etienne DAHO chez lui, dans sa chambre mansardée, rue des Dames 75017 Paris. Commande de Rock & Folk pour la sortie de l'album Mythomane en Novembre 1981
Renaissance :
When Jeanluc Buro entrusted me with the indexation of his photographic collection, I had little information about his photographic negatives, I was aware that this required a great deal of work in image analysis and documentary research, but I was convinced as I progressed in exploring his archives, the potential and visual quality of his production.
The mission of this exhibition is to reveal Jeanluc Buro's personal view of his generation, but also to highlight, through the photographer's lens, the dazzling creativity of his young alternative identities.
I.C Horiot
La Galerie Hors-Champs
20 rue des Gravilliers 75003 Paris
is open from Tuesday to Sunday
from 1pm to 7pm
Contacts :
+33 1 45 35 48 98
contact@galerie-hors-Champs.com
www.galerie-hors-champs.com
www.facebook.com/GalerieHorsChamps
www.instagram.com/galerie_hors_champs
2017 November 17, 18, 19
Anvers aux Abbesses  dans le cadre des Ateliers portes ouvertes
Marks of life, vintage from 80's, parties and Rock'n roll attitude from Paris and London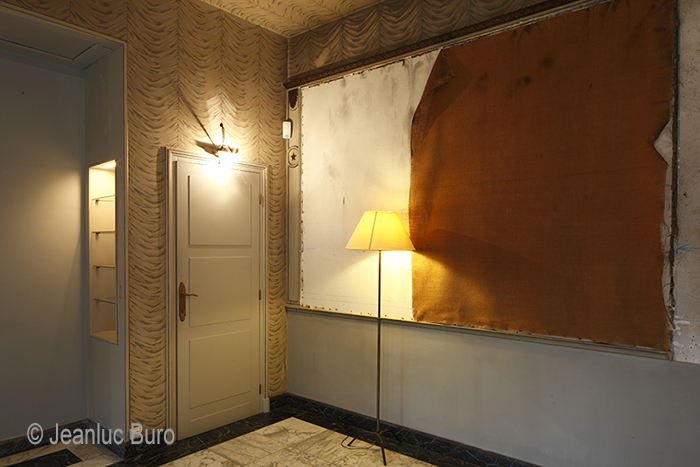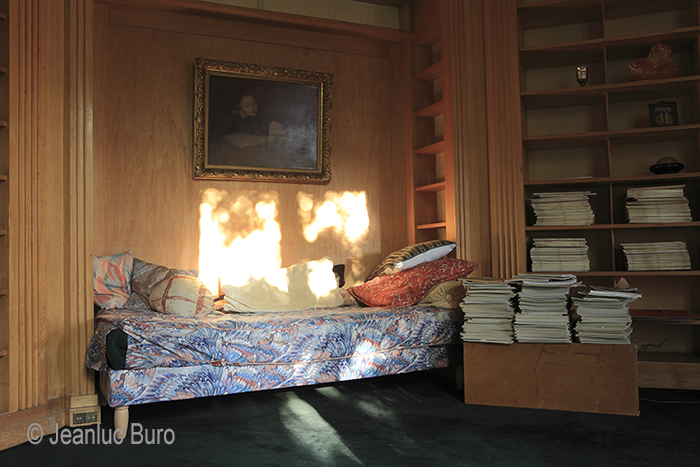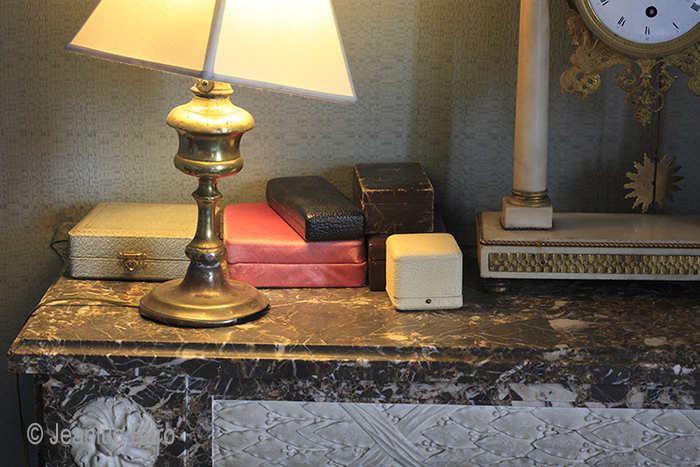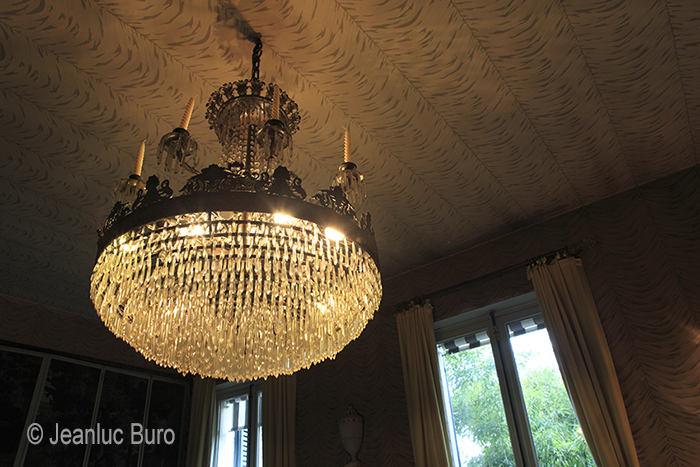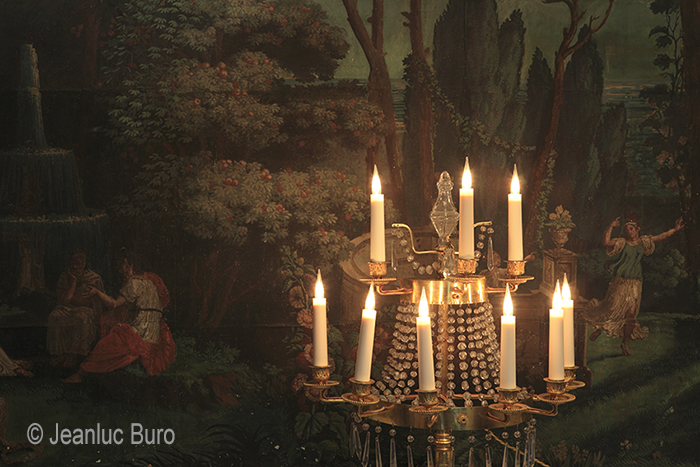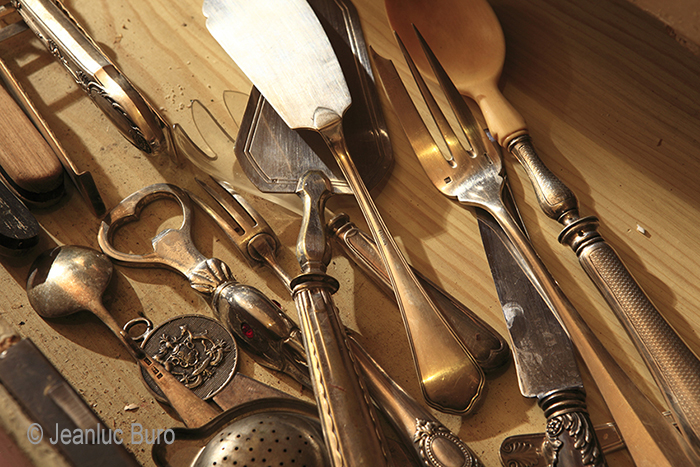 ---
2016 February 9 – 21
Alisa Gallery introduce « Nightclubbing »
collective exhibition  in Point Éphémère Paris 75010
Vernissage mardi 9 Février 2016 à partir de 18h30
Performance sonore à 19h30 puis 20h30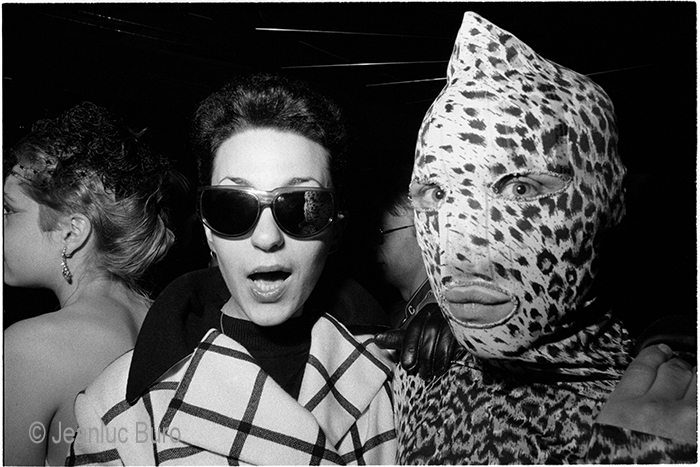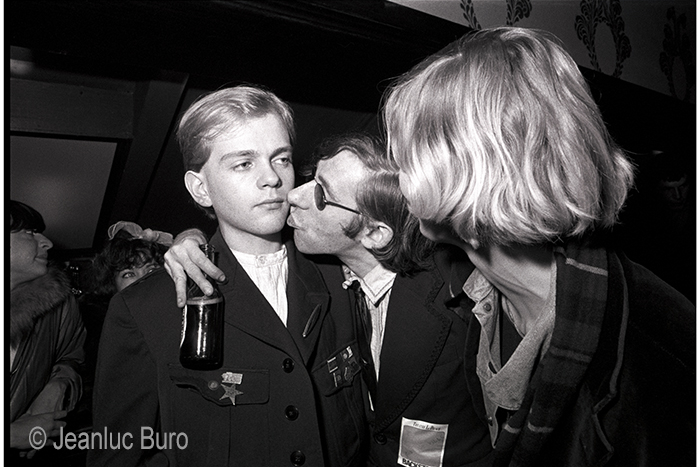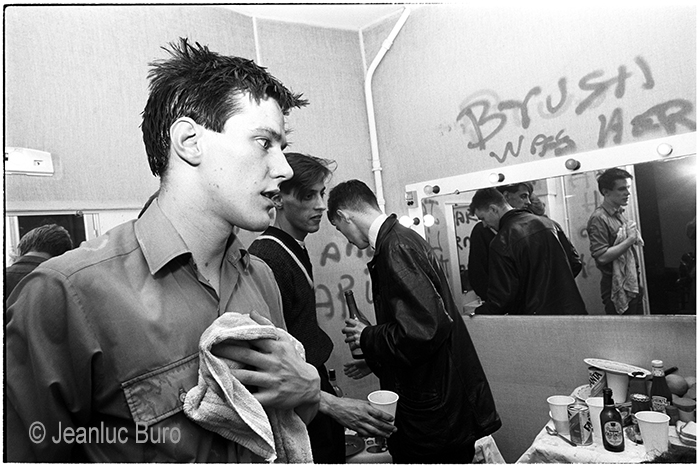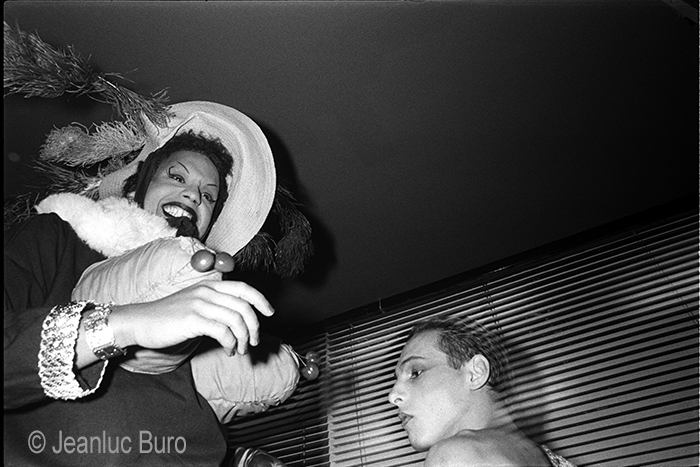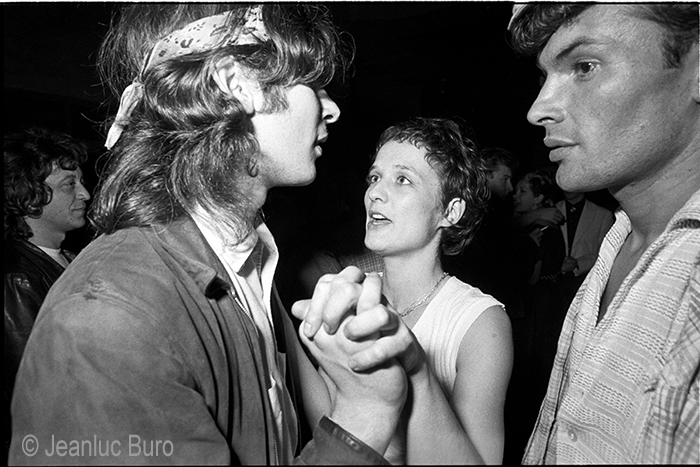 Les photos proposées lors de cette exposition ont des valeurs communes : elles montrent des corps en mouvement, des jeunes gens avides de s'amuser, conscients de leur insolente beauté (la plupart des protagonistes se sont par exemple « mis sur leur 31 » afin qu'on les remarque, arborant leurs meilleurs look, coupe de cheveux et attitude). Ces lieux finalement restreints que sont les clubs sont imprégnés d'une envie de liberté si puissante qu'elle en devient palpable, d'une fureur de vivre que ces adolescents et jeunes adultes veulent nous montrer, à la fois insouciants et conscients de la fugacité de la jeunesse, fureur de vivre. De ces photos se dégage une sorte d'esthétique de la spontanéité. Rechercher le beau dans l'ordinaire. Faire sens avec ce qui se passe maintenant. Tous les photographes capturent cette énergie et ces instants universels et les rendent, par leurs clichés, intemporels.
Ces photos témoignent de signes, codes et expressions qui nous renseignent sur notre époque et notre société. Passionnant support pour capter une énergie, les corps qui dansent, s'oublient, se saturent, les photos sont à la fois des reportages, des "portraits d'une génération » et ce qu'on pourrait appeler des "symphonies élégiaques" sur le corps adolescent, corps en apprentissage, libre et pulsionnel. Il s'agit de capter le moment présent, l'instant d'une soirée, dans un but documentaire ou d'archive.
Les différents photographes de cette exposition tendent à montrer une partie du milieu qu'ils fréquentent, de leur communauté. C'est une sorte de témoignage générationnel. Ce qu'il s'y passe, d'un point de vue culturel, est souvent passionnant.
Photographes : Jean-Luc Buro, Holly Falconer (UK), Victoria Lentaigne (UK), Chill Okubo, Marie Rouge, Thomas Smith, Hannibal Volkoff
Point Ephémère  Paris 75010